How quickly can Gus Malzahn or Jimbo Fisher get to LSU? Scott Woodward must ask | Toppmeyer

Blake Toppmeyer
USA TODAY NETWORK
This the "Topp Rope," a biweekly SEC football column from the USA TODAY Network's Blake Toppmeyer.
How quickly can the Gus Bus get to LSU?
That's the question LSU athletics director Scott Woodward should ask Gus Malzahn after the Tigers' 38-27 loss at UCLA in their season opener Saturday night.
Better yet, Woodward should ask Jimbo Fisher what his asking price would be to consider an LSU homecoming.
Ed Orgeron can't blame this latest LSU loss on Bo Pelini.
One of the oldest tricks in the coaching playbook is to pin a bad season on the coordinators and fire said coordinators. See LSU, after last year's 5-5 season.
But a coordinator shuffle is rarely the answer, and we were reminded of that Saturday. UCLA amassed 470 yards against an LSU defense now under the guidance of Daronte Jones following Pelini's firing after one season.
And, are we sure former offensive assistant Joe Brady orchestrated LSU's 2019 national championship? Orgeron hired former Brady understudy Jake Peetz as his offensive coordinator before this season, but Peetz's offense debuted with a thud.
Let's consider the possibility that Brady wasn't the man behind LSU's 2019 success. Rather, Heisman Trophy-winning quarterback Joe Burrow was.
Max Johnson is not Burrow.
In fact, Johnson on Saturday looked like he should be Myles Brennan's backup, if only Brennan were healthy.
But don't blame this loss on Johnson. LSU's offensive line remained ineffective, and its running game was nonexistent.
Woodward is not the AD who hired Orgeron, and Woodward should think highly of his hiring ability after he tapped Chris Petersen at Washington, Fisher at Texas A&M and women's basketball coach Kim Mulkey at LSU. He's not shy about swinging big.
Speaking of swinging big, are we sure Bob Stoops won't get bored with his television gig at FOX Sports?
Then there's Malzahn, the former Auburn coach who has never had a losing season. He celebrated a 36-31 comeback victory over Boise State on Thursday in his Central Florida debut.
With UCF on a path toward the Big 12, Malzahn might embrace the Knights and steer clear of rejoining the SEC fray. 
First, Woodward should check on his former employee, Fisher, to see what it would take to get Fisher to leave Texas A&M and return to LSU, where he was an offensive coordinator under Nick Saban.
Fisher signed a contract extension last week that would keep him at Texas A&M through the 2031 season, and his salary will hit $9 million on Jan. 1.
But coaching contracts are made to be broken.
In announcing Fisher's contract extension and raise, Texas A&M noted that other provisions of his remained intact. And Fisher's original contract did not include any exit fee should he leave his contract early.
That equates to an open invitation for Woodward to see if Fisher prefers gumbo to Texas barbecue.
Can Georgia, aka old Alabama, beat current Alabama?
Georgia delivered a vintage Alabama performance in beating Clemson 10-3 without scoring an offensive touchdown.
The marquee Week 1 matchup evoked memories of LSU's 9-6 victory over Alabama in 2011 in the so-called "Game of the Century," a game in which neither team scored a touchdown.
Georgia proved itself worthy of the preseason hype. 
But can a defense-fueled team that reflects the earlier teams of Nick Saban's Alabama dynasty beat Saban's current iteration that is electric on both sides of the ball?
I remain unconvinced. Alabama's offense looked to be in midseason form in a 44-13 thrashing of Miami. Still, Georgia emerged from Week 1 as the biggest threat to Alabama.
TOPPMEYER:Alabama's 2020 team was historically great. This Alabama team might be better.
Vanderbilt hits rock bottom under Clark Lea
It was all I could do to stifle a laugh at SEC Media Days in July when first-year Vanderbilt coach Clark Lea said:
"There's no better program in the country than Vanderbilt football."
Yes, he really said that.
Apparently, Lea forgot about the FCS program in his own state that is better than Vanderbilt.
The Commodores were embarrassed at home in a 23-3 loss to East Tennessee State on Saturday.
Vanderbilt quit last season with one game to go, canceling its finale against Georgia. I predict the Commodores again will use COVID as an excuse to quit this season, and perhaps sooner than the season finale.
Mike Leach isn't out of the woods yet
ESPN ranking Mississippi State No. 8 in the first preseason installment of its Football Power Index looks even more bizarre now than it did upon publishing in the spring.
The Mike Leach era at Mississippi State is faring no better than the Joe Moorhead era. And Mississippi State fired Moorhead after two seasons.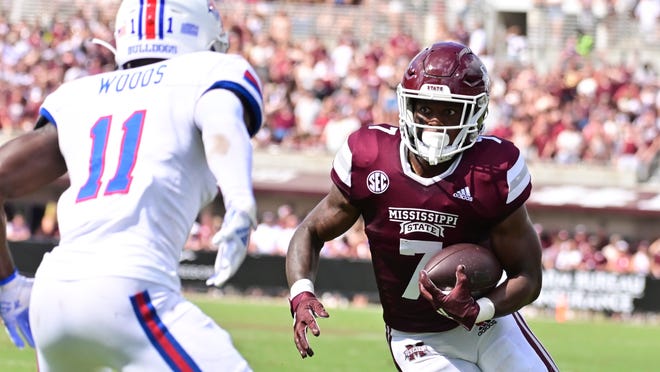 Leach's Bulldogs wriggled off the hook against Louisiana Tech by rallying for a 35-34 victory, but MSU's next five games are against North Carolina State, Memphis, LSU, Texas A&M and Alabama. This could spiral quickly.
Mighty Bo Nix
Will the third-best team in the SEC West please stand up? LSU bowed out of contention.
Maybe Auburn is the best candidate to claim the spot behind Alabama and Texas A&M.
It's hard to not be impressed by quarterback Bo Nix completing 20 of 22 passes for 275 yards in a 60-10 victory, even if it did come against lowly Akron. Perhaps a coaching change really was the reboot Nix needed.
He said it
"If the defense does that every game, we don't need to score much more than four points." – Georgia quarterback JT Daniels
Note:A previous version of this column incorrectly listed the result of the "Game of the Century."
Blake Toppmeyer is an SEC Columnist for the USA TODAY Network. Email him at BToppmeyer@gannett.com and follow him on Twitter @btoppmeyer. If you enjoy Blake's coverage, consider a digital subscription that will allow you access to all of it.